CAD
April 2001
Design Applications
Downstream data secures more business
Tom Shelley looks at new ways in which electronic data sharing can expand an engineering company's business and increase its prosperity
Making electronic data can not only ease engineering design, but secure potentially even bigger business during subsequent product life.
Product life cycle support should not be regarded as a nuisance, but as an opportunity to make more money than was possible by the original sale.
Standards are being established, institutions set up and software tools developed to ease the task. Anyone with an interest in long lasting engineering products needs to pay attention.
Howard Mason, chairman of PLCS and speaking at a meeting of the UK Council for Electronic Business said, "An aircraft carrier costing an initial $2 billion can be expected to incur support costs and provide opportunities for business of $ 6 billion during the rest of its working life."
Manufacturers should not wish to see the last of products when they leave the factory or yard door. Modifications, upgrades, repairs and maintenance all provide opportunities for business as well as services expected by customers. Some manufacturing companies, particularly in the automotive sector, have in the past made most of their profits from supplies of spare parts. Motor manufacturers are beginning to accept that one day they may only lease vehicles, and not sell them, remaining responsible for manufacture, repairs, maintenance, and eventual recycling. This could soon be true of most products.
As aircraft, ships and defence systems become more complicated, the problems of designing and later modifying them become increasingly difficult. Even major companies are increasingly turning to out sourcing from specialist suppliers, making accurate communication of data between different organisations, often in different countries, ever more crucial.
The sectors most conscious of life cycle needs and with the most to gain or lose from how they look after their products during their service life are in the fields of aerospace and defence. In October 1999, 14 North American and European private and public organisations joined together to establish an initiative that would enhance the establishment and use of shared information for full life cycle support of systems and products. The present participants are: Boeing, BAE Systems, Lockheed Martin Government Electronic Systems, Rolls Royce, the Ministry of Defence, Baan, FAIR Information Services, the Finnish Defence Forces, LSC Group, The Royal Norwegian Ministry of Defence, Saab, Parametric Technology Corporation and the US Department of Defence.
Other prime early targets lie in the oil, gas and chemical industries and civilian ship building, which have similar life cycle support problems to aerospace and defence plus considerable environmental impact if things go wrong. The oil and gas industry is already well clued up about life cycle engineering but the solutions are all proprietary and therefore differ from each other. Two leaders in the field are the solutions offered by CADCentre and AXSYS from Hyprotech, a wholly owned subsidiary of AEA Technology (see box).
The organisation the 14 founders set up is PLCS, standing for Product Life Cycle Support, incorporated in Delaware and headquartered at the Advanced Technology Institute in North Charleston, South Carolina.
The aim of the scheme is to produce working data models and draft standards in three years, using ISO 10303 STEP (the STandard for the Exchange of Product model data). Hopefully, everyone will end up with accessible data in the same format, whether it be users seeking to repair primary products, suppliers seeking to meet the needs of main contractors, or recycling organisations seeking information on possible hazards and optimum paths to safely dismantle.
At present there are a host of different standards and formats for product data, either set down by government departments and institutions, or instituted by vendors of CAD software.
Nobody underestimates the magnitude of the task. The work is to take full advantage of current STEP standards and work performed by the four major STEP Centres. A chart of the main inputs looks like a mass of army ants attacking the body of some animal they have caught. Areas to be addressed by the initiative include: Life Cycle Configuration Management and Change Control, Support Engineering, Inventory Management and Conduct of Maintenance and Usage Reporting.
If data is going to be increasingly shared, one of the issues is maintaining defence and commercial security.
Robert Shields, joint Enterprise Integration team leader for UKCeB, speaking at the same meeting posed the question as to whether the Defence Extended Enterprise would ever share all data. Not all restrictions are apparently in government. He said that the Ministry of Defence talked about "Information Warfare", "Information Exploitation" and "Information Superiority" while commercial organisations seemed to be more concerned about "Company Confidential", "Commercial in Confidence" and "Restricted Commercial."
The Ministry of Defence, of course, already uses secure LANs and accredited industry WANs as well as a large number (some say 50, some say 250) point to point secure data links with particular contractors. Security is undoubtedly an issue, and Robert Shields said firewalls can continue to be expected to block Microsoft's ActiveX wherever it might allow penetration. However, the issues seem to be more about agreeing standards and procedures, and deciding on a single set of XML schemas, than on how to keep out hackers.
The gains of improved collaborative communications should be that major projects, particularly in defence, should be delivered to customers more quickly, and do what they are supposed to do within budget. Upgrades, when necessary, should be accomplished more quickly and at lower cost. Initial manufacturers should be able to more easily access design data whenever re-engineering or maintenance is required, regardless of how many years have elapsed since the equipment was first supplied. And everyone concerned should be better able to cope with crises, breakdowns and end of life disposal problems.
Howard Mason says, "Like all the sponsoring companies, BAE Systems is looking at opportunities to exploit the new standard on new and existing programmes."
Nobody is committing themselves, but one obvious candidate is the new Joint Strike Fighter.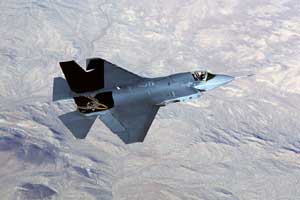 Copyright: US Government/Boeing/Lockheed: more info at www.jast.mil
More information aboult PLCS can be found at www.plcsinc.org
Tools developed for life cycles in process
Hyprotech has announced the release of AXSYS 1.1, its integrated process engineering solution for deployment throughout the life cycle of complex process plants. The software optimises enterprise work flow and enables collaborative engineering and early validation of plant designs by integrating process simulation and project evaluation in a common database repository. The new release has added features which provide better integration with detailed design systems, support for additional process simulation packages, and a comprehensive set of tools for configuration and customisation.
The SmartPlant P&ID export facilities allow process engineers to transfer their process P&IDs created with AXSYS to Intergraph's SmartPlant for further editing and finalisation as part of the detailed engineering scope of work. The transfer process generates a fully intelligent drawing with associated data being transferred using XML.
"We see this as a major step forward in providing better integration between the owner/operator and the engineering design contractor, " said Dr Mark Broussard, Hyprotech's Senior Vice President of Technology. "The ability to leverage the process design work done as part of Front End Loading into the detailed design environment will help reduce project schedules and design re-work."
More information at www.hyprotech.com